"I believe that wrestling plays a highly educational part in the development of a boy. The fundamental that every successful wrestler must acquire, and which has great carryover value after his student days, is self-discipline. From self-discipline stems self-confidence and belief in one's self. What greater lesson can a sport or a coach impart?"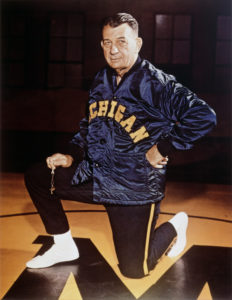 For 45 years, young men came to the University of Michigan to learn about life and wrestle at the collegiate level, and from 1925-70 there was one constant in the U-M wrestling program: head coach Cliff Keen. His 42-year career continues to stand as the record for longest tenure by a college wrestling coach, and it is among the longest careers by a coach in any sport in the history of the NCAA.
During his tenure at the helm of the Wolverine wrestling program, Keen's squads posted a 272-91-10 record, won 13 Big Ten Conference championships and finished among the conference's top three in all but five seasons during his run. Keen coached 11 NCAA individual champions, 68 All-Americans and 81 Big Ten champions and led his Wolverines to 24 top-10 NCAA finishes, including back-to-back runner-up showings in 1928 and 1929.
Keen was also a member of the Michigan football coaching staff for 33 years. He guided the Wolverines' 150-pound football team to two national titles during the only two seasons Michigan fielded the team (1947, '48), and he is credited with introducing the T-formation to the Wolverine program.
Born June 13, 1901, on a ranch outside of Cheyenne, Okla., Keen was an outstanding collegiate athlete at Oklahoma A&M (now Oklahoma State). Wrestling under legendary coach Edward C. Gallagher, Keen was an undefeated 158-pound wrestler through his collegiate career, winning two Southwestern Conference titles, a Missouri Valley Conference title and a National Invitational Tournament championship. Keen's athletic accomplishments went beyond wrestling. He was a three-sport letterman at Oklahoma A&M, serving two seasons as the football team's center (1922, '23) while competing in the hurdles and shot put during the spring track season.
In 1924, Keen was selected to the U.S. Olympic wrestling team after winning the Olympic Trials but was sidelined by a broken rib suffered in training camp. Keen remained involved with the Olympic wrestling program, serving on the U.S. Olympic Committee from 1928-52 and traveling to the 1948 London Games as a manager of the U.S. team.
Keen was instrumental in the development of the sport across the United States, and today his name remains synonymous with collegiate wrestling. The inaugural president of the National Wrestling Coaches Association, he long presided over the national rules committee and, for many years, pioneered the development of safe and effective wrestling equipment. In 1958, he founded Cliff Keen Athletic to sell and promote his invention of wrestling headgear, and he turned the company into the largest wrestling provider in the United States.
A charter member of the National Wrestling Hall of Fame, Keen was inducted to the University of Michigan's Athletic Hall of Honor in 1980.